Concerts
Konzerte
Concerts
Conzerti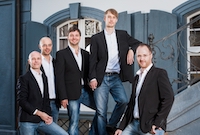 The ensemble "La Pedrina", conducted by Francesco Saverio Pedrini, will once again perform in two concerts with the programme from the last CD produced by RISM Switzerland: "Il Pastor fido dei Grigioni", with madrigals by Luca Marenzio from a source preserved in Zuoz. The concerts will take place on 24 October in Bellinzona (as part of the "Cantar di pietre"concert series) and on 25 October in Zuoz (cancelled because of Corona).
Das Ensemble "La Pedrina" unter der Leitung von Francesco Saverio Pedrini tritt wieder in zwei Konzerte mit dem Programm aus der letzten von RISM Schweiz realisierten CD auf: "Il Pastor fido dei Grigioni" mit Madrigalen von Luca Marenzio aus einer in Zuoz aufbewahrten Quelle. Die Konzerte finden am 24. Oktober in Bellinzona (als Teil der Konzertreihe "Cantar di pietre") und am 25. Oktober in Zuoz (wegen Corona annulliert) statt.
L'ensemble "La Pedrina", dirigé par Francesco Saverio Pedrini, donnera à nouveau deux concerts avec le programme du dernier CD réalisé par le RISM Suisse: "Il Pastor fido dei Grigioni", avec des madrigaux de Luca Marenzio provenant d'une source conservée à Zuoz. Les concerts auront lieu le 24 octobre à Bellinzona (dans le cadre de la série de concerts "Cantar di pietre") et le 25 octobre à Zuoz (annulé à cause du Corona).
L'ensemble "La Pedrina", diretto da Francesco Saverio Pedrini, si esibirà nuovamente in due concerti con il programma dell'ultimo CD realizzato da RISM Svizzera: "Il Pastor fido dei Grigioni", con madrigali di Luca Marenzio da una fonte conservata a Zuoz. I concerti si terranno il 24 ottobre a Bellinzona (nell'ambito della rassegna "Cantar di pietre") e il 25 ottobre a Zuoz (annullato per Corona).
The CD recording was released in 2017 for the label Claves Records. The programme was performed in Zurich and Zuoz in 2017. After three years there is again the possibility to listen to this music on Sunday, 25 October at the place where it is kept, in the church of San Luzi. The concert, which puts a rare musical treasure from the Upper Engadine in the spotlight, is organised by the municipality of Zuoz.
Die CD-Aufnahme erschien 2017 beim Label Claves Records. Das Programm wurde bereits 2017 in Zürich und Zuoz aufgeführt. Nach drei Jahren besteht nun also erneut die Möglichkeit, diese Musik an ihrem Aufbewahrungsort in der Kirche San Luzi zu hören, nämlich am 25. Oktober 2020. Das Konzert, das einen seltenen musikalischen Schatz aus dem Oberengadin ins Rampenlicht stellt, wird von der Gemeinde Zuoz veranstaltet.
L'enregistrement sur CD est sorti en 2017 pour le label Claves Records. Le programme a été présenté à Zurich et à Zuoz en 2017. Après trois ans, il sera à nouveau possible d'écouter cette musique le dimanche 25 octobre dans le lieu où la source est conservée, dans l'église San Luzi. Le concert, qui met en lumière un rare trésor musical de Haute-Engadine, est organisé par la communauté de Zuoz.
La registrazione è stata pubblicata nel 2017 per l'etichetta Claves Records. Il programma è stato eseguito a Zurigo e Zuoz nel 2017. Dopo tre anni si presenta dunque di nuovo la possibilità di ascoltare questa musica domenica 25 ottobre nel luogo dove è conservata, nella chiesa di San Luzi. Il concerto, che mette sotto i riflettori un raro tesoro musicale dell'Alta Engadina, è organizzato dal comune di Zuoz.