CD vernissage Marenzio
CD-Taufe Marenzio
Vernissage du CD Marenzio
Vernissage del CD Marenzio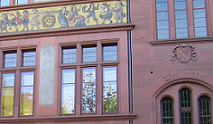 The second CD co-produced by RISM and the Claves label has already made waves since its release in July 2018 and received top marks in the music magazines (see the project page). Now the Ensemble La Pedrina and its director Francesco Saverio Pedrini are launching the CD: On Friday, 29 March 2019, at 19:30, in the Wettsteinsaal at Claragraben 45 in Basel. Claudio Bacciagaluppi, collaborator at RISM Switzerland, will introduce the concert. Admission to the concert is free. After the concerts in Zurich and Zuoz in June 2017, this is the first opportunity to hear the CD programme live again. A concert tour to the USA in autumn 2020 is also planned.
Die zweite von RISM und dem Label Claves co-produzierte CD hat seit ihrem Erscheinen im Juli 2018 bereits hohe Wellen geschlagen und beste Kritiken in den Fachzeitschriften erhalten (siehe die Projektseite). Nun heben das Ensemble La Pedrina und ihr Leiter Francesco Saverio Pedrini die CD aus der Taufe: Am Freitag 29. März 2019, um 19:30 Uhr, im Wettsteinsaal am Claragraben 45 in Basel. Claudio Bacciagaluppi, Mitarbeiter von RISM Schweiz, wird in das Konzert einführen. Der Eintritt ins Konzert ist gratis. Nach den Konzerten im Juni 2017 in Zürich und Zuoz ist dies die erste Gelegenheit, das CD-Programm wieder live zu hören. Geplant ist des Weiteren eine Konzertreise in den USA im Herbst 2020.
Le deuxième CD coproduit par RISM et le label Claves a déjà été très remarqué depuis sa sortie en juillet 2018 et a reçu d'excellentes notes dans les revues spécialisées (voir la page du projet page). L'Ensemble La Pedrina et son directeur Francesco Saverio Pedrini vernissent le CD avec un concert qui sera donné le vendredi 29 mars 2019, à 19h30, dans la Wettsteinsaal au Claragraben 45 à Basel. Claudio Bacciagaluppi, collaborateur du RISM Suisse, présentera le concert. L'entrée au concert est gratuite. Après les concerts préparatifs donnés à Zurich et à Zuoz en juin 2017, c'est la première occasion d'entendre le programme du CD en direct. Une tournée de concerts aux Etats-Unis est également prévue à l'automne 2020.
Il secondo CD co-prodotto da RISM e dall'etichetta Claves ha già fatto notizia dalla sua uscita nel luglio 2018 e ha ricevuto ottimi voti nelle riviste specializzate (vedi la pagina del progetto). L'Ensemble La Pedrina e il suo direttore Francesco Saverio Pedrini presentano il CD venerdì 29 marzo 2019, alle 19:30, nella Wettsteinsaal di Claragraben 45 a Basilea. Claudio Bacciagaluppi, collaboratore di RISM Svizzera, introdurrà il concerto. L'ingresso al concerto è gratuito. Dopo i concerti di Zurigo e Zuoz nel giugno 2017, questa è la prima occasione per ascoltare nuovamente dal vivo il programma del CD. È inoltre previsto un tour di concerti negli Stati Uniti nell'autunno 2020.