A dedicated website for the Muscat project
Eine spezielle Website für das Muscat-Projekt
Un site web dédié au projet Muscat
Un sito web dedicato al progetto Muscat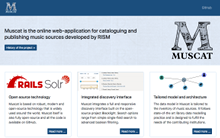 Every RISM working group knows Muscat - it is the familiar interface with which each collaborator catalogues musical sources in the RISM database since 2016. But what is the history and the philosophy of this software project? What are its technical components? What does it offer?
Jede RISM-Arbeitsgruppe kennt Muscat - es ist die vertraute Oberfläche, mit der jeder Mitarbeiter seit 2016 Musikquellen in der RISM-Datenbank katalogisiert. Aber was ist die Geschichte und die Philosophie dieses Softwareprojekts? Was sind seine technischen Komponenten? Was bietet es?
Chaque groupe de travail du RISM connaît Muscat - c'est l'interface familière avec laquelle les collaborateurs cataloguent les sources musicales dans la base de données du RISM depuis 2016. Mais quelle est l'histoire et la philosophie de ce projet ? Quels sont ses composantes techniques ? Qu'offre-t-il ?
Ogni gruppo di lavoro RISM conosce Muscat - è l'interfaccia familiare con cui ogni collaboratore cataloga le fonti musicali nel database RISM dal 2016. Ma qual è la storia e la filosofia di questo progetto software? Quali sono i suoi elementi tecnici? Che cosa offre?
In fact, the cataloguing software was not entirely developed from scratch, but brings together a number of features that are all freely accessible, combining and adapting them to the needs of the RISM project. A recently launched dedicated website offers insight into the development and the different components of Muscat: http://muscat-project.org
Muscat is the online web-application for cataloguing and publishing music sources developed by RISM. The project was initiated in 2002 by the United Kingdom working group of RISM and then developed further by the RISM Switzerland. Since early 2014, Muscat has been developed in collaboration with the RISM Central Office in Frankfurt thanks to the decision of the RISM-UK and the RISM Switzerland to make it open-source. Muscat was made available to the entire RISM community with the migration of the full RISM data set in 2016.
Muscat has, among others, nine prominent technical features.
It is based on open source technology.
It integrates several search options in a full discovery interface.
The data model is tailored to the needs of RISM and complies to MARC standard.
Muscat supports an integrated incipit display and incipit search.
Users can send comments and feedback to the community directly from Muscat.
Images can be uploaded directly or via the standard IIIF and displayed in a high-resolution image viewer.
Muscat keeps track of all changes made to the single records in the database.
The data is linked to international authority files, such as VIAF.
Finally, Muscat provides a dynamical visualization on a geographical map of the search results.
Tatsächlich wurde die Katalogisierungssoftware nicht ganz neu entwickelt, sondern vereint eine Reihe von Funktionen, die alle frei zugänglich sind, kombiniert sie und passt sie an die Bedürfnisse des RISM-Projekts an. Eine kürzlich aufgeschaltete Website bietet Einblicke in die Entwicklung und die verschiedenen Komponenten von Muscat: http://muscat-project.org
Muscat ist die von RISM entwickelte Online-Webanwendung zur Katalogisierung und Veröffentlichung von Musikquellen. Das Projekt wurde 2002 von der britischen RISM-Arbeitsgruppe initiiert und von RISM Schweiz weiterentwickelt. Seit Anfang 2014 kann Muscat – dank der Entscheidung von RISM Schweiz und RISM UK, die Anwendung auf Open-source-Basis zu erstellen – in Zusammenarbeit mit der RISM-Zentrale in Frankfurt weiterentwickelt werden. Mit der Migration des vollständigen RISM-Datensets im Jahr 2016 wurde Muscat der gesamten RISM-Community zur Verfügung gestellt.
Muscat weist unter anderem neun markante technische Merkmale auf:
Es basiert auf Open-Source-Technologie.
Es integriert mehrere Suchoptionen in einer umfassenden Suchoberfläche.
Das Datenmodell ist auf die Bedürfnisse von RISM zugeschnitten und entspricht dem MARC-Standard.
Muscat unterstützt eine integrierte Incipit-Anzeige und Incipit-Suche.
Benutzer können Kommentare und Feedback an die Community direkt aus Muscat senden.
Bilder können direkt oder über den Standard IIIF hochgeladen und in einem hochauflösenden Bildanzeigeprogramm angezeigt werden.
Muscat verfolgt alle Änderungen, die an den einzelnen Datensätzen in der Datenbank vorgenommen wurden.
Die Daten sind mit internationalen Autoritätsdateien, wie z.B. VIAF, verknüpft.
Schliesslich bietet Muscat eine dynamische Visualisierung der Suchergebnisse auf einer geographischen Karte.
En réalité, le logiciel de catalogage n'a pas été entièrement développé à partir de zéro, mais rassemble un certain nombre de fonctionnalités qui sont toutes librement accessibles, les combinant et les adaptant aux besoins du projet RISM. Un site web dédié récemment lancé offre un aperçu du développement et des différentes composantes de Muscat : http://muscat-project.org
Muscat est l'application en ligne de catalogage et d'édition de sources musicales développée par le RISM. Le projet a été initié en 2002 par le groupe de travail britannique du RISM, puis développé par le RISM Suisse. Depuis début 2014, Muscat a été développé en collaboration avec la Rédaction Centrale du RISM à Francfort grâce à la décision du RISM-UK et du RISM Suisse de le rendre open-source. Muscat a été mis à la disposition de l'ensemble de la communauté RISM avec la migration de l'ensemble des données RISM en 2016.
Muscat possède, entre autres, neuf caractéristiques techniques notables.
Il est basé sur une technologie open-source.
Il intègre plusieurs options de recherche dans une interface de découverte complète.
Le modèle de données est adapté aux besoins du RISM et est conforme à la norme MARC.
Muscat prend en charge l'affichage des incipits et la recherche par incipit est intégrée.
Les utilisateurs peuvent envoyer leurs commentaires et réactions à la communauté directement depuis Muscat.
Les images peuvent être téléversées directement ou via la norme IIIF et affichées dans un visualiseur d'images haute résolution.
Muscat garde un historique de toutes les modifications apportées aux notices individuelles dans la base de données.
Les données sont liées à des fichiers d'autorités internationales, tels que VIAF.
Enfin, Muscat fournit une visualisation dynamique sur une carte géographique des résultats de la recherche.
Il software di catalogazione, in realtà, non è stato sviluppato interamente da zero, ma riunisce una serie di componenti liberamente accessibili, combinandole e adattandole alle esigenze del progetto RISM. Un sito web dedicato, lanciato di recente, offre una panoramica sullo sviluppo e sulle diverse componenti di Muscat: http://muscat-project.org
Muscat è l'applicazione web online per la catalogazione e la pubblicazione di fonti musicali sviluppata da RISM. Il progetto è stato avviato nel 2002 dal gruppo di lavoro britannico di RISM e successivamente sviluppato dal RISM Svizzera. Dall'inizio del 2014, Muscat è stato sviluppato in collaborazione con l'ufficio centrale RISM di Francoforte grazie alla decisione del RISM-UK e del RISM Svizzera di renderlo open-source. Muscat è stato messo a disposizione dell'intera comunità RISM con la migrazione dell'intero insieme di dati RISM nel 2016.
Muscat presenta, tra l'altro, nove importanti caratteristiche tecniche.
Si basa su tecnologia open source.
Integra diverse opzioni di ricerca in un'interfaccia di ricerca completa.
Il modello di dati è adattato alle esigenze di RISM ed è conforme allo standard MARC.
Muscat supporta la visualizzazione di incipit e la ricerca per incipit integrata.- Gli utenti possono inviare commenti e feedback alla comunità direttamente da Muscat.
Le immagini possono essere caricate direttamente o tramite lo standard IIIF e appaiono in un visualizzatore di immagini ad alta risoluzione.
Muscat tiene traccia di tutte le modifiche apportate ai singoli record nel database.
I dati sono collegati a file di autorità internazionali, come VIAF.
Infine, Muscat fornisce una visualizzazione dinamica su una mappa geografica dei risultati della ricerca.