Catalogue of the Albert Jenny collection completed
Abschluss Katalogisierung des Nachlasses von Albert Jenny
Fin du catalogage de la collection d'Albert Jenny
Completamento del catalogo della collezione Albert Jenny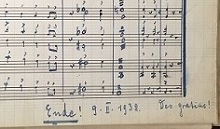 Within the long-term cataloguing project in the Lucerne Central and University Library, the musical sources from the collection of Albert Jenny (1912-1992) have been recently catalogued. The slightly more than 300 database entries can now be consulted online.
Innerhalb des mehrjährigen Katalogisierungsprojekts in der Zentral- und Hochschulbibliothek Luzern, wurden in den letzten Wochen die musikalischen Quellen aus dem Nachlass von Albert Jenny (1912-1992) erschlossen. Die etwas mehr als 300 Datenbankeinträge sind ab sofort online abfragbar.
Dans le cadre du projet de catalogage pluriannuel à la Bibliothèque Centrale et Universitaire de Lucerne, les sources musicales de la collection d'Albert Jenny (1912-1992) ont été cataloguées ces dernières semaines. Les quelques 300 entrées de base de données peuvent maintenant être interrogées en ligne.
Nell'ambito del progetto pluriennale di catalogazione nella Biblioteca centrale e universitaria di Lucerna, le fonti musicali della collezione Albert Jenny (1912-1992) sono state catalogate nelle ultime settimane. Ora è possibile interrogare online le relative schede – più di 300 – nel database.
The musician from Solothurn is of great importance to central Switzerland. In fact, he was not only a composer, but also a teacher at the Capuchin College St. Fidelis in Stans and at the Conservatory of Lucerne, as well as choir and orchestra conductor in various locations. Amongst others, between 1946 and 1962 he conducted the choir of the International Music Festival Lucerne. Furthermore, Jenny was Kapellmeister in the monastery of St. Leodegar (Hofkirche), also in Lucerne.
The compositional oeuvre includes virtually all genres, from choral and orchestral music through chamber music works to stage and festival music. However, his main focus was on sacred and liturgical vocal music.
Der in Solothurn geborene Musikschaffende ist für die Zentralschweiz von grosser Bedeutung. So war er nicht nur Komponist, sondern darüber hinaus auch Lehrer am Kapuzinerkollegium St. Fidelis Stans und Dozent am Konservatorium Luzern sowie Chor- und Orchesterleiter an verschiedenen Orten. U. a. leitete er zwischen 1946 und 1962 den Chor der Internationalen Musikfestwochen Luzern. Des Weiteren war Jenny Kapellmeister im Stift St. Leodegar (Hofkirche) ebenfalls in Luzern.
Das kompositorische Œuvre umfasst praktisch sämtliche Gattungen, von Chor- und Orchestermusik über kammermusikalische Werke bis hin zu Bühnen- und Festspielmusiken. Das Hauptaugenmerk galt jedoch der geistlichen und liturgischen Vokalmusik.
Le musicien né à Soleure est d'une grande importance pour la Suisse centrale. En fait, il était non seulement compositeur, mais aussi professeur au Collège des Capucins St. Fidelis à Stans et au Conservatoire de Lucerne, ainsi que chef de chœur et chef d'orchestre à divers endroits. Entre autre, de 1946 à 1962, il a dirigé le chœur du Festival international de musique de Lucerne. En outre, Jenny était Kapellmeister au monastère de Saint-Léger (Hofkirche), également à Lucerne.
Son œuvre comprend pratiquement tous les genres, de la musique chorale et orchestrale aux œuvres de musique de chambre en passant par la musique de scène et de festival. Cependant, son intérêt principal était la musique vocale sacrée et liturgique.
Il musicista nato a Soletta è di grande importanza per la Svizzera centrale. In effetti, non era solo compositore, ma anche insegnante al Collegio dei Cappuccini di St. Fidelis a Stans e docente presso il Conservatorio di Lucerna, nonché direttore di cori e orchestre in varie località. Dal 1946 al 1962, fra gli altri, ha diretto il coro del Festival internazionale di musica di Lucerna. Inoltre, sempre a Lucerna, Jenny era Kapellmeister nel monastero di St. Leodegar (Hofkirche).
L'opera compositiva comprende in pratica tutti i generi, dalla musica corale e orchestrale alle opere di musica da camera, dalla musica teatrale al Festspiel. Tuttavia, il suo maggiore impegno era nella musica vocale sacra e liturgica