Collaboration with the BCU Fribourg
Zusammenarbeit mit der BCU Fribourg
Collaboration avec la BCU Fribourg
Collaborazione con la BCU Fribourg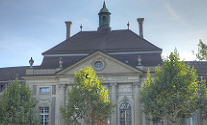 At the middle of February 2018, RISM Switzerland begins a three-year collaboration with the Cantonal and University Library of Fribourg. The project aims to catalogue the BCU's historical music collection. This contains a large amount of music sources, which have been until now hardly, if at all, examined. There are two different collections: on the one hand the manuscripts from the Monastery of Montorge and on the other a large collection summarised under the group signature "EBAZ".
Mitte Februar 2018 beginnt eine dreijährige Zusammenarbeit mit der Kantons- und Universitätsbibliothek Fribourg. Mit dem vorliegenden Projekt wird die historische Musiksammlung der BCU, welche eine grosse Menge an kaum oder noch nicht gesichtetem Quellenmaterial enthält, aufgearbeitet. Dabei gilt es zwei Sammlungen zu unterscheiden: Auf der einen Seite die Manuskripte aus dem Kloster Montorge und auf der anderen Seite eine grosse Sammlung, die unter der Signaturengruppe "EBAZ" zusammengefasst ist.
Une collaboration de trois ans avec la la Bibliothèque cantonale et universitaire de Fribourg commencera mi-février 2018. Le projet mettra en valeur la collection de musique historique qui est à peine ou pas encore accessible. Il s'agit de deux collections distingue: d'une part les manuscrits du monastère de Montorge et d'autre part une grande collection, qui est résumée sous la cote « EBAZ ».
A metà febbraio 2018 prenderà avvio una collaborazione triennale con la Biblioteca cantonale e universitaria di Fribourg. Il progetto mira a catalogare la collezione storica di musica della BCU. In essa si trova una notevole quantità di fonti musicali finora poco o per nulla esaminate. Si tratta di due diverse collezioni: d'un lato i manoscritti del monastero di Montorge, e dall'altro una vasta collezione riunita sotto la segnatura collettiva «EBAZ».
See the project page for more information about the project.
Mehr Informationen zum Projekt gibt es auf der Projektseite.
Pour plus d'informations à propos du projet, veuillez consulter la page du projet.