OnStage: Workshop in the SLUB Dresden
OnStage: Workshop in der SLUB Dresden
OnStage: atelier à la SLUB Dresde
OnStage: seminario nella SLUB di Dresda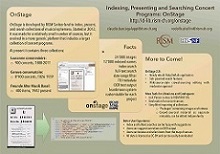 In October, the web platform "OnStage" was presented by two collaborators with a poster at a workshop of the Saxon State and University Library Dresden (SLUB). The purpose of the workshop was to compare different solutions for the development and access to "music performance ephemera" with regard to the realization of a common database. In exchange with colleagues from Germany, France, Great Britain and Australia, our project convinced with its simple structure and clear user-friendliness.
Im Oktober wurde die Web-Plattform "Onstage" durch zwei Mitarbeitende bei einem Workshop an der Sächsischen Landes- und Universitätsbibliothek Dresden (SLUB) mit einem Poster vorgestellt. Der Workshop hatte den Zweck, im Hinblick auf die Realisierung einer gemeinsamen Datenbank verschiedene Lösungen bei der Erschliessung und dem Zugang zu "music performance ephemera" zu vergleichen. Im Austausch mit Kolleginnen und Kollegen aus Deutschland, Frankreich, Grossbritannien und Australien hat unser Projekt durch seine einfache Struktur und klare Benutzerfreundlichkeit überzeugt.
En octobre, la plate-forme web « OnStage » a été présentée avec un poster par deux collaborateurs lors d'un atelier à la Bibliothèque d'État et Universitaire de Saxonie Dresde (SLUB). Le but de l'atelier était de comparer différentes solutions pour le développement et l'accès aux « publications éphémères de performances musicales » pour discuter la réalisation d'une base de données commune. En échange avec des collègues d'Allemagne, de France, de Grande-Bretagne et d'Australie, notre projet a convaincu par sa structure simple et sa convivialité.
A ottobre, la piattaforma web "OnStage" è stata presentata da due collaboratori con un poster in un seminario presso la Biblioteca di Stato e Universitaria della Sassonia (SLUB). Lo scopo del seminario era di confrontare diverse soluzioni per lo sviluppo e l'accesso alle "pubblicazioni effimere di esecuzioni musicali" per discutere la realizzazione di un database comune. In un produttivo scambio con colleghi provenienti da Germania, Francia, Gran Bretagna e Australia, il nostro progetto ha convinto con la sua struttura semplice e chiara facilità d'uso.
"OnStage" was launched in 2012 and currently includes three collections from Lausanne, Geneva and Basel. The web platform has already been presented at two IAML congresses, in 2016 in Rome and in 2017 in Riga. A new version of the software is in planning.
For more information, please visit the web page.
"OnStage" wurde 2012 gestartet und beinhaltet zurzeit drei Sammlungen aus Lausanne, Genf und Basel. Die Web-Plattform wurde bereits an zwei Kongressen der IAML vorgestellt, 2016 in Rom und 2017 in Riga. Eine neue Version der Software ist in Planung.
Vgl. die Website für mehr Informationen.
"OnStage" a été lancé en 2012 et comprend actuellement trois collections conservées à Lausanne, Genève et Bâle. La plate-forme web a déjà été présentée à deux congrès IAML, en 2016 à Rome et en 2017 à Riga. Une nouvelle version du logiciel est en cours de planification.
Pour plus d'informations veuillez consulter la page web.
"OnStage" è stato lanciato nel 2012 e attualmente comprende tre collezioni conservate a Losanna, Ginevra e Basilea. La piattaforma web è già stata presentata a due congressi IAML, nel 2016 a Roma e nel 2017 a Riga. Una nuova versione del software è in fase di pianificazione.
Si veda la pagina web per ulteriori informazioni.