75 Years Freunde Alter Musik Basel
75 Jahre Freunde Alter Musik Basel
75 ans de l'association Freunde Alter Musik Basel
75 anni dell'associazione Freunde Alter Musik Basel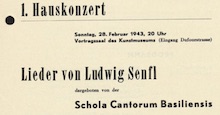 For its 75th anniversary (1942-2017), the association Freunde Alter Musik Basel decided to publish its concert programmes on the OnStage platform of RISM Schweiz. The almost complete collection of all concert and season programmes was digitised and indexed by date, composer and performer. In addition, a full-text search is possible
Zu seinem 75. Jubiläum (1942-2017) hat der Verein Freunde Alter Musik Basel beschlossen, seine Programmhefte auf der OnStage-Plattform von RISM Schweiz zu veröffentlichen. Die fast vollständige Sammlung aller Konzert- und Saisonprogramme wurde digitalisiert und nach Datum, Komponisten und Interpreten indexiert. Darüber hinaus ist eine Volltextsuche möglich.
Pour son 75ème anniversaire (1942-2017), l'association Freunde Alter Musik Basel a décidé de publier ses programmes de concerts sur la plate-forme OnStage du RISM Suisse. La collection presque complète des programmes de concerts individuels et des programmes de saisons a été numérisée et indexée par date, compositeurs et interprètes. En outre, une recherche en plein-texte est possible.
Per il suo 75o anniversario (1942-2017), l'associazione Freunde Alter Musik Basel ha deciso di pubblicare i suoi programmi di sala sulla piattaforma OnStage di RISM Svizzera. La raccolta quasi completa dei programmi di singoli concerti e delle stagioni è stata digitalizzata e indicizzata per data, compositori e interpreti. Inoltre, è possibile una ricerca full-text.
The collection comprises are more than 300 documents, for a total amount of ca. 3000 images. The indexing and digitisation took place in the Swiss National Library in 2016, the programmes are online since March 2017.
See the project page for more information about the project.
Die Sammlung beinhaltet mehr als 300 Dokumente mit insgesamt etwa 3000 Bildern. Die Erfassung und Digitalisierung wurde 2016 in der Nationalbibliothek vorgenommen, die Aufschaltung erfolgte im März 2017.
Mehr Informationen zum Projekt gibt es auf der Projektseite.
La collection comprend plus de 300 documents pour un total d'environ 3'000 images. L'indexation et la numérisation ont été effectuées à la Bibliothèque nationale en 2016 et les programmes ont été mis en ligne en mars 2017.
Pour plus d'informations à propos ce projet, veuillez consulter la page du projet.
La raccolta comprende più di 300 documenti con un totale di circa 3000 immagini. L'indicizzazione e la digitalizzazione hanno avuto luogo presso la Biblioteca Nazionale nel 2016, la collezione è stata messa online nel marzo 2017.
Si veda la pagina del progetto per ulteriori informazioni sul progetto.