Cataloguing software Muscat
Katalogisierungssystem Muscat
Logiciel de catalogage Muscat
Sistema di catalogazione Muscat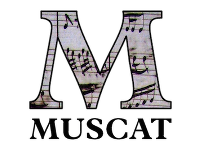 Since November 14, all RISM working groups at international level have been working with our Muscat software. Migration of all RISM data (about 1 million titles) was carried out by the RISM Central Office (export of data from Kallisto) and by our collaborator Rodolfo Zitellini (importing in Muscat).
Seit dem 14. November arbeiten auf internationaler Ebene alle Arbeitsgruppen von RISM mit unserer Software Muscat. Die Migration aller RISM Daten (ca. 1 Million Titel) wurde von der Zentralredaktion (Daten aus Kallisto exportiert) und unserem Mitarbeiter Rodolfo Zitellini (in Muscat importiert) durchgeführt.
Depuis le 14 novembre dernier, tous les groupes de travail du RISM au niveau international travaillent avec notre logiciel Muscat. La migration de l'ensemble des données du RISM (environ 1 million de titres) a été effectuée par la Rédaction Centrale (exportation des données depuis Kallisto) et par notre collaborateur Rodolfo Zitellini (importation dans Muscat).
Dal 14 novembre, tutti i gruppi di lavoro RISM a livello internazionale stanno lavorando con il nostro software Muscat. La migrazione di tutti i dati RISM (circa 1 milione di titoli) è stata realizzata dalla Redazione centrale RISM (esportazione di dati da Kallisto) e dal nostro collaboratore Rodolfo Zitellini (importazione in Muscat).
Muscat is a software we develop and use at RISM Switzerland since 2008. It is the result of a collaboration with RISM UK and since 2014 with the Central Office. The feedbacks we have from Muscat users around the world after about a month of work are extremely positive and RISM has taken a very important step with this migration.
See the project page for more information about the project.
Muscat ist eine Software, die RISM Schweiz seit 2008 entwickelt und nutzt. Sie ist das Ergebnis einer Zusammenarbeit mit RISM Großbritannien und seit 2014 mit der Zentralredaktion. Die Rückmeldungen, die wir nach einem Monat Arbeit von den Nutzern von Muscat weltweit erhalten haben, sind äußerst positiv. Mit der Migration hat RISM einen sehr wichtigen Schritt gemacht.
Mehr Informationen zum Projekt gibt es auf der Projektseite.
Muscat est un logiciel que nous développons et utilisons au RISM Suisse depuis 2008. Il est le fruit d'une collaboration avec le RISM UK et depuis 2014 avec la Rédaction Centrale. Les échos que nous avons des utilisateurs de Muscat à travers le monde après environ un mois de travail sont extrêmement positifs et le RISM a franchi une étape très importante avec cette migration.
Pour plus d'informations à propos ce projet, veuillez consulter la page du projet.
Muscat è un software che sviluppiamo e utilizziamo presso RISM Svizzera dal 2008. È il frutto di una collaborazione con RISM Regno Unito e, dal 2014, con la Redazione centrale. I feedback che abbiamo ricevuto dagli utenti Muscat in tutto il mondo dopo circa un mese di lavoro sono estremamente positivi e con questa migrazione RISM ha fatto un passo in avanti molto importante.
Si veda la pagina del progetto per ulteriori informazioni sul progetto.