Cooperation with the National Library of Australia
Zusammenarbeit mit der National Library of Australia
Coopération avec la Bibliothèque nationale d'Australie
Cooperazione con la National Library of Australia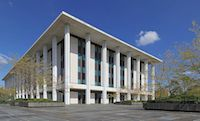 RISM Switzerland took over an unusual task in October 2016. In collaboration with the National Library of Australia (NLA) in Canberra, work started on a private music collection which was donated to the NLA and has to be shipped to Australia. The collection was assembled by an Australian couple of musicians, who has been based in Switzerland for 50 years. Cédric Güggi and Claudio Bacciagaluppi, together with Robyn Holmes, Senior Curator at the NLA, have arranged and summarily described a first part of the collection, and helped in packing it in shipping boxes.
RISM Schweiz hat im Oktober 2016 eine ungewöhnliche Aufgabe übernommen. In Zusammenarbeit mit der National Library of Australia (NLA) in Canberra wurde die Bearbeitung einer privaten Musiksammlung angegangen, welche der NLA geschenkt wurde und nach Australien verfrachtet werden muss. Die Sammlung hat ein australisches Musiker-Ehepaar zusammengestellt, das seit 50 Jahre in der Schweiz ansässig ist. Cédric Güggi und Claudio Bacciagaluppi haben zusammen mit Robyn Holmes, Senior Curator an der NLA, einen ersten Teil der Sammlung summarisch geordnet und beschrieben, und bei seiner Verpackung in Umzugsschachteln geholfen.
En octobre 2016 le RISM Suisse a accepté une tâche inhabituelle. En collaboration avec la Bibliothèque nationale d'Australie (NLA) à Canberra, le RISM a travaillé sur une collection de musique privée léguée à la NLA et qui sera envoyée en Australie. Cette collection a été constituée par un couple de musiciens australiens domicilié depuis 50 ans en Suisse. Cédric Güggi et Claudio Bacciagaluppi ont préparé et décrit sommairement avec Robyn Holmes, la conservateur principale de NLA, une première partie de la collection qu'ils ont ensuite emballée dans des cartons de déménagement.
RISM Svizzera ha assunto un compito insolito nel mese di ottobre 2016. In collaborazione con la National Library of Australia (NLA) a Canberra, sono iniziati i lavori su una collezione di musica privata che è stata donata alla NLA e deve essere spedita in Australia. La collezione è stata riunita da una coppia di musicisti australiani che ha vissuto in Svizzera per 50 anni. Cédric Güggi e Claudio Bacciagaluppi, insieme a Robyn Holmes, Senior Curator alla NLA, hanno organizzato e sommariamente descritto una prima parte della collezione, e hanno aiutato nell'imballaggio per la spedizione.
This is a welcome opportunity for RISM Switzerland to expand its international relations. Worldwide, the common goal is to preserve, catalog and make music sources accessible to the public.
Es ist für RISM Schweiz eine willkommene Gelegenheit, seine internationalen Beziehungen zu erweitern. Weltweit ist das gemeinsame Ziel, Musikquellen zu erhalten, zu erfassen und öffentlich zugänglich zu machen.
Cette collaboration permet au RISM Suisse de soigner ses relations internationales, l'objectif mondial commun étant de préserver, cataloguer et rendre accessibles au public les sources musicales.
Si tratta di una gradita opportunità per RISM Svizzera di espandere le sue relazioni internazionali. In tutto il mondo, l'obiettivo comune è quello di preservare, catalogare e rendere accessibili al pubblico le fonti musicali.