Course at the University of Fribourg
Lehrveranstaltung an der Universität Fribourg
Cours à l'Université de Fribourg
Corso all'Università di Fribourg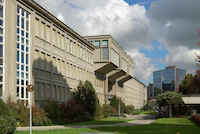 To make ongoing musicians and musicologists acquainted with the activities of RISM Switzerland is an important concern of the Office. After the RISM courses at the University of Bern (autumn semester 2011, under the direction of Prof. Dr. Cristina Urchueguía) and at the University of Basel (autumn 2014), the work of RISM Switzerland was presented at the Institute for musicology of the University of Fribourg in October 2016.
Angehende Musikerinnen, Musiker und Musikwissenschaftler mit der Tätigkeit von RISM Schweiz bekannt zu machen, ist ein wichtiges Anliegen der Arbeitsstelle. Nach den RISM-Kursen an der Universität Bern (Herbstsemester 2011, unter der Leitung von Prof. Dr. Cristina Urchueguía) und an der Universität Basel (Herbstsemester 2014) wurde nun die Arbeit vom RISM Schweiz im Oktober 2016 am Institut für Musikwissenschaft der Université de Fribourg vorgestellt.
Familiariser des musiciens et des musicologues en formation avec l'activité du RISM Suisse est l'une de nos préoccupations majeures. Après les cours donnés par le RISM Suisse à l'Université de Berne (semestre d'automne 2011, sous la direction du Prof. Dr. Cristina Urchueguía) et à l'Université de Bâle (semestre d'automne 2014) le RISM Suisse a présenté son travail à l'institut de Musicologie de l'Université de Fribourg en octobre 2016.
Far conoscere le attività di RISM Svizzera a musicisti e musicologi in formazione è una preoccupazione importante dell'ufficio. Dopo i corsi RISM presso l'Università di Berna (semestre autunnale 2011, sotto la direzione della Prof. Dr. Cristina Urchueguía) e presso l'Università di Basilea (autunno 2014), il lavoro di RISM Svizzera è stato presentato presso l'Istituto di musicologia dell'Università di Fribourg nel mese di ottobre 2016.
As part of the seminar "Disciplines of musicological research" by Prof. Luca Zoppelli, Claudio Bacciagaluppi and Rodolfo Zitellini presented in two double hours the history, the activities and the technical challenges of RISM Switzerland to the Fribourg students.
Innerhalb des Seminars "Disciplines d'investigation musicologique" von Prof. Luca Zoppelli haben Claudio Bacciagaluppi und Rodolfo Zitellini in zwei Doppelstunden die Geschichte, die Tätigkeiten und die technischen Herausforderungen der Arbeit vom RISM Schweiz den Fribourger Studierenden vorgeführt.
Dans le cadre du séminaire "Disciplines d'investigation musicologique" du Professeur Luca Zoppelli, Claudio Bacciagaluppi et Rodolfo Zitellini ont expliqué aux étudiants de Fribourg durant deux heures l'histoire, les activités et les défis techniques du travail du RISM Suisse.
All'interno del seminario "Discipline della ricerca musicologica" del Prof. Luca Zoppelli, Claudio Bacciagaluppi e Rodolfo Zitellini hanno presentato la storia, le attività e le sfide tecniche di RISM Svizzera in due sessioni agli studenti friborghesi.