Collaboration with the Music Library of the University of the Arts Bern
Zusammenarbeit mit der Musikbibliothek der Hochschule der Künste Bern
Collaboration avec la Bibliothèque de musique de la Haute école des arts de Berne
Collaborazione con la Biblioteca musicale della Scuola superiore delle arti di Berna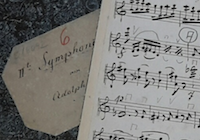 RISM Switzerland starts in late July 2016 to catalog the collection of the Bernese composer Adolf Reichel (1816-1896) that was considered lost until 2013. The collection was donated to the Music Library of the University of the Arts in Bern by his great-grandson Helmuth Reichel.
Ende Juli 2016 beginnt RISM die Erschliessung des bis ins Jahr 2013 als verschollen gegoltenen Nachlasses des Berner Komponisten Adolf Reichel (1816-1896). Der Nachlass wurde von seinem Urenkel Helmuth Reichel der Musikbibliothek der Hochschule der Künste Bern übergeben.
Le RISM commence fin juillet 2016 le catalogage du fonds du compositeur bernois Adolf Reichel (1816-1896) qui a été considéré comme perdu jusqu'en 2013. Le fonds a été légué à la Bibliothèque de musique de la Haute école des arts de Berne par son arrière-petit-fils Helmuth Reichel.
RISM Svizzera inizia alla fine di luglio 2016 la catalogazione del fondo del compositore bernese Adolf Reichel (1816-1896), considerato perduto fino al 2013. Il fondo è stato donato alla Biblioteca musicale della Scuola superiore delle arti di Berna dal suo pronipote Helmuth Reichel.