Jubilee concert of the Swiss RISM Association on 14 June 2016 in Berne
Jubiläumskonzert des Vereins Arbeitsstelle Schweiz des RISM am 14. Juni 2016 in Bern
Concert d'anniversaire de l'association du Bureau suisse du RISM le 14 juin 2016 à Berne
Concerto per l'anniversario dell'Associazione RISM Svizzera il 14 giugno 2016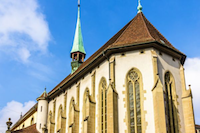 The association "Swiss Office of the Répertoire International des Sources Musicales (RISM)" celebrates its 20th anniversary on 14 June 2016 with a public concert. An ample choice from Maurizio Cazzati's "Messa e Salmi", op. 36, will be performed by the Basel vocal ensemble Voces Suaves. On this occasion, a speech on the topic "Music (Culture) - Politics - Science" will be delivered by the former Councillor Christine Egerszegi-Obrist. The concert in the French Church in Berne starts at 7.30 p.m. Admission is free (donations welcome at the exit).
Der Verein Arbeitsstelle Schweiz des Répertoire International des Sources Musicales (RISM) feiert am 14. Juni 2016 sein 20jähriges Bestehen mit einem öffentlichen Konzert. Aufgeführt wird ein grösserer Ausschnitt aus Maurizio Cazzatis Messa e Salmi, op. 36 durch das Basler Vokalensemble Voces Suaves. Für die Festansprache zum Thema "Musik (Kultur) – Politik – Wissenschaft" konnte die ehemalige Ständerätin Christine Egerszegi-Obrist gewonnen werden. Das Konzert in der Französischen Kirche Bern beginnt um 19.30 Uhr. Der Eintritt ist frei (Kollekte).
L'association du Bureau suisse du Répertoire International des Sources Musicales (RISM) célèbre le 14 juin 2016 son 20ème anniversaire avec un concert public. L'ensemble vocal de bâlois Voces Suaves exécutera un extrait de la « Messa e Salmi », op. 36 de Maurizio Cazzati. Un discours sur le thème « musique (culture) - politique – science » sera prononcé par l'ancienne conseillère aux Etats Christine Egerszegi-Obrist. Le concert à l'église française de Berne commencera à 19h 30. L'entrée est libre (collecte).
L'associazione "Ufficio svizzero del Répertoire International des Sources Musicales (RISM)" celebra il suo 20° anniversario il 14 giugno 2016 con un concerto pubblico. Il programma prevede l'esecuzione di un'ampia scelta dalla "Messa e Salmi", op. 36 di Maurizio Cazzati con l'ensemble vocale di Basilea Voces Suaves. Per l'occasione, la ex consigliera agli Stati Christine Egerszegi-Obrist terrà un discorso sul tema "Musica (cultura) - politica - scienza". Il concerto nella Chiesa francese di Berna avrà inizio alle 19.30. L'ingresso è libero (colletta all'uscita).
The performance of the jubilee concert is entrusted to the young Basel vocal ensemble Voces Suaves under conductor Francesco Saverio Pedrini. It is accompanied by the instrumental ensemble Opera Prima. Relying on a good knowledge of the historical context, Voces Suaves specializes in one-to-a-part performances of Renaissance and Baroque music. The repertoire includes a wide range of Italian madrigals, works of the German early Baroque and Italian oratorios and masses for larger performing forces. The choice of programmes ensures that in addition to the works by renowned artists such as Monteverdi and Schütz also those of forgotten composers like Domenico Sarro or, actually, Maurizio Cazzati are performed. The ensemble was founded 2012 by Tobias Wicky and consists of a core of nine professional singers. Most members are connected to the Schola Cantorum Basiliensis. In 2014-2016 Voces Suaves took part in the European funding programme eeemerging, Emerging European Ensembles, which promoted the artistic development of the ensemble.
The "Messa e Salmi", op. 36 by Maurizio Cazzati was issued on CD in March 2016 under the title "From Bologna to Beromünster" with Claves Records (CD 1605) as a collaborative project between RISM Switzerland and Voces Suaves and is presently on sale.
RISM Switzerland is one of the official working groups within the international RISM community, which aims to document as fully as possible all historical musical sources in the world and make them available to the public. The Swiss branch, based in Berne, concerns itself with all documents present in Switzerland, mainly in libraries, archives and monasteries. The foundation of the working group goes back to the year 1956. Since 21 June 1996, it is organized as an independent association and has the support of numerous scientific and library institutions, such as the Swiss Musicological Society (SMG), the Association of Swiss Music Collections (ASCM), the Swiss Society for the Rights of Authors of Musical Works (SUISA) and the Swiss Music Council (SMR). Since its foundation in 1956 the Swiss RISM branch has recorded systematically more than 50,000 manuscripts from after 1600 (a quarter of them autographs), more than 10,000 individual prints from before 1800, collective prints from the 16th, 17th and 18th centuries and writings on music, and nearly 21,000 printed music editions of the 19th and 20th centuries.
Für die Ausführung des Jubiläumskonzerts konnte das junge Basler Vokalensemble Voces Suaves unter der Leitung von Francesco Saverio Pedrini gewonnen werden. Begleitet wird es durch die Instrumentalgruppe Opera Prima. Voces Suaves führt basierend auf Kenntnissen des historischen Kontexts vorwiegend Renaissance- und Barockmusik in solistischer Besetzung auf. Das Repertoire beinhaltet eine breite Auswahl an italienischen Madrigalen, Werken des deutschen Frühbarocks und grösser besetzten italienischen Oratorien sowie Messen. Bei der Programmgestaltung wird darauf geachtet, dass neben den Werken bekannter Meister wie Monteverdi und Schütz auch solche von in Vergessenheit geratenen Komponisten wie Domenico Sarro oder eben Maurizio Cazzati zur Aufführung gelangen. Das 2012 von Tobias Wicky gegründete Ensemble besteht aus einem Kern von neun professionellen Sängerinnen und Sängern, von denen die meisten einen Bezug zur Schola Cantorum Basiliensis haben. In den Jahren 2014-2016 ist das Voces Suaves Teil des europäischen Förderprogramms eeemerging, Emerging European Ensembles Project, welches die künstlerische Entwicklung des Ensembles fördert.
Die Messa e Salmi, op. 36 von Maurizio Cazzati sind als Kooperationsprojekt zwischen RISM Schweiz und Voces Suaves im März 2016 unter dem Titel "From Bologna to Beromünster" bei Claves Records (CD 1605) auf CD erschienen und im Handel erhältlich. RISM Schweiz ist eine der offiziellen Arbeitsstellen innerhalb der internationalen RISM-Gemeinschaft, die zum Ziel hat, weltweit möglichst vollständig sämtliche historischen Musikquellen zu dokumentieren und der Öffentlichkeit zugänglich zu machen. Die in Bern ansässige Schweizer Arbeitsstelle kümmert sich dabei um sämtliche Dokumente, die sich in der Schweiz – vorwiegend in Bibliotheken, Archiven und Klöstern – befinden. Die Gründung der Arbeitsstelle geht auf das Jahr 1956 zurück. Seit dem 21. Juni 1996 ist sie als eigenständiger Verein organisiert und wird von zahlreichen wissenschaftlichen sowie bibliothekarischen Institutionen wie die Schweizerische Musikforschende Gesellschaft (SMG), die Schweizerische Vereinigung der Musiksammlungen (ASCM), die Schweizerische Gesellschaft für die Rechte der Urheber musikalischer Werke (SUISA) und den Schweizer Musikrat (SMR) getragen. Seit seiner Gründung im Jahr 1956 hat RISM Schweiz über 50'000 handschriftliche Noten nach 1600 (ein Viertel davon Autographe), weit über 10'000 Einzeldrucke vor 1800, Sammeldrucke des 16., 17. und 18. Jahrhunderts und Schriften über Musik, sowie knapp 21'000 gedruckte Noten des 19. und 20. Jahrhunderts systematisch erfasst.
Pour le concert d'anniversaire le jeune ensemble vocal bâlois Voces Suaves sous la direction de Francesco Saverio Pedrini sera accompagné par l'ensemble instrumental Opera Prima. Les exécutions en formation de solistes de Voces Suaves se basent sur la connaissance du contexte historique de la musique de la Renaissance et de la musique baroque. Le répertoire comprend des madrigaux italiens, des œuvres du baroque allemand et également des oratorios et des messes italiennes. L'ensemble veille qu'à côté d'œuvres d'artistes renommés tels que Monteverdi et Schütz à chanter aussi des œuvres des compositeurs oubliés comme Domenico Sarro ou tout simplement Maurizio Cazzati. L'ensemble qui a été fondé en 2012 par Tobias Wicky consiste neuf chanteurs professionnels qui sont pour la plupart liés à la Schola Cantorum Basiliensis. Entre 2014-2016 Voces Suaves fait partie du programme de soutien européen eeemerging, Emerging European Ensembles Project qui favorise le développement de l'ensemble.
La Messa e Salmi, op. 36 de Maurizio Cazzati a été enregistrée sous le titre « From Bologna to Beromünster » par Claves Records (CD 1605) en mars 2016.
Ce projet est le fruit d'une collaboration entre le RISM Suisse et l'ensemble Voces Suaves. Le disque est disponible dans le commerce. Le RISM Suisse est une des groupes de travail officiels au sein de la communauté internationale du RISM et a comme but d'inventorier le plus grands nombre de sources musicales historiques et de les rendre ainsi accessible au public. Le bureau du RISM Suisse a son siège à Berne s'occupe de tous les documents qui se trouvent dans les bibliothèques, archives et monastère. Le RISM Suisse a été fondé en 1956. Depuis le 21 juin 1996, le RISM Suisse est une association indépendante soutenue par divers institutions scientifique et bibliothécaire comme la Société Suisse de Musicologie (SSM), l'association Suisse des Collections Musicales (ASCM), la coopérative des auteurs et éditeurs de musique (SUISA) et le conseil Suisse de la musique (CSM). Depuis sa fondation, le RISM a inventorié systématiquement plus de 50'0000 partitions manuscrites datées depuis le 17ème siècle (un quart sont des manuscrits autographes), plus que 10'000 imprimés d'avant 1800, des collections d'imprimés du 16ème aux 18ème siècles et des traités musicaux ainsi que de 21'000 partitions imprimées du 19ème et 20ème siècle.
Ad eseguire il concerto dell'anniversario è stato chiamato il giovane ensemble vocale di Basilea "Voces Suaves" sotto la guida di Francesco Saverio Pedrini. Lo accompagna il gruppo strumentale Opera Prima. Voces Suaves esegue solisticamente perlopiù musica rinascimentale e barocca, sulla base della conoscenza del contesto storico. Il repertorio comprende una vasta gamma di madrigali italiani, composizioni del primo barocco tedesco e oratori e messe italiane di organico più vasto. I programmi sono concepiti in modo da eseguire, oltre alle opere di artisti del calibro di Monteverdi e Schütz, anche composizioni di autori dimenticati come Domenico Sarro o, per l'appunto, Maurizio Cazzati. L'ensemble, fondato nel 2012 da Tobias Wicky, è costituito da un nucleo di nove cantanti professionisti, di cui la maggior parte è in rapporto con la Schola Cantorum Basiliensis. Negli anni 2014-2016 Voces Suaves partecipa al progetto di finanziamento europeo eeemerging, Emerging European Ensembles Project, che promuove lo sviluppo artistico dell'ensemble.
La "Messa e Salmi", op. 36, di Maurizio Cazzati sono apparsi su CD nel marzo 2016 con il titolo "Da Bologna a Beromünster" presso Claves Records (CD 1605) come progetto di collaborazione tra RISM Svizzera e Voces Suaves e sono disponibili in commercio.
RISM Svizzera è uno dei gruppi di lavoro ufficiali della comunità RISM internazionale, che ha lo scopo di documentare il più estesamente possibile tutte le fonti musicali storiche nel mondo e renderle disponibili al pubblico. L'ufficio svizzero, basato a Berna, si occupa di tutti i documenti conservati in Svizzera, principalmente in biblioteche, archivi e monasteri. La fondazione del gruppo di lavoro risale al 1956. Dal 21 giugno 1996 è organizzato come un'associazione indipendente, con il sostegno di numerose istituzioni scientifiche e bibliotecarie come la Società svizzera di musicologia (SMG), l'Associazione svizzera delle collezioni musicali (ASCM), la Società svizzera per i diritti degli autori di opere musicali (SUISA) e il Consiglio svizzero della musica (SMR). Dalla sua istituzione nel 1956 RISM Svizzera ha catalogato sistematicamente circa 50.000 manoscritti musicali del 1600 (un quarto di loro autografi), più di 10.000 stampe monografiche anteriori al 1800, stampe antologiche del XVI, XVII e XVIII secolo e scritti sulla musica, e quasi 21.000 titoli di musica a stampa dei secoli XIX e XX.