Geo-spatial visualization for music prints
Raum-Zeit-Visualisierung für Musikdrucke
Visualisation spatio-temporelle pour les imprimés musicaux
Visualizzazione spazio-temporale per le stampe musicali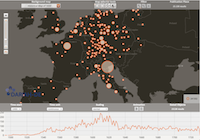 In many domains, data visualization techniques have proven to be extremely useful for analyzing and better understanding large and complex datasets. We recently conducted experiments on how geo-visualization techniques may be applied to music bibliographical resources.
In vielen Bereichen haben sich Visualisierungstechniken als äusserst nützlich erwiesen, um grosse Mengen an komplexen Daten zu analysieren und besser zu verstehen. Wir haben vor kurzem Experimente durchgeführt, um Raum-Zeit-Visualisierungstechniken an musikbibliographischen Ressourcen anzuwenden.
Dans de nombreux domaines, les techniques de visualisation se sont montrées extrêmement utiles pour analyser et mieux comprendre de grandes quantités de données complexes. Nous avons récemment effectué des recherches pour appliquer aux ressources bibliographiques musicales des techniques de visualisation spatio-temporelles.
In molti campi, le tecniche di visualizzazione di dati hanno dimostrato di essere estremamente utili per analizzare e meglio comprendere delle ingenti quantità di dati complessi. Recentemente, abbiamo condotto degli esperimenti sull'applicazione di tecniche di visualizzazione spazio-temporale a risorse bibliografico-musicali.
With the online publication of the RISM datasets, a large range of new opportunities has now opened up for the musicological world. However, working on and analyzing datasets of thousands of records raises new challenges for musicological research.
We present here an innovative way of visualizing music prints data from RISM Series A/I for prints from before 1730. This approach not only provides scholars with completely new ways of apprehending the data, but also offers new possibilities of selecting and manipulating the data for further processing and analysis.
Mit der Online-Veröffentlichung der RISM-Daten, eröffnet sich ein breites Spektrum an neuen Möglichkeiten für die Musikwissenschaft. Allerdings stellt das Handhaben und das Analysieren von vielen Tausenden von bibliographischen Datensätzen neue Herausforderungen für die musikwissenschaftliche Forschung dar.
Wir stellen hier einen innovativen Ansatz vor, um die Daten zu den vor 1730 gedruckten Musikquellen aus der RISM-Serie A/I zu visualisieren. Dieser Ansatz bietet den Forschern nicht nur einen neuen Zugang zu den Daten, sondern auch neue Möglichkeiten, die Daten auszuwählen und zu handhaben, um sie dann weiter zu bearbeiten und zu analysieren.
Avec la publication en ligne de données du RISM, a large spectre d'opportunités nouvelles s'offre à la musicologie. Cependant, manipuler et analyser des ensembles de données de plusieurs milliers de références bibliographiques engendre de nouveaux défis pour la recherche musicologique.
Nous présentons ici une approche innovante pour visualiser les données sur les imprimés de la Série A/I du RISM pour les sources avant 1730. Cette approche non seulement fournit aux chercheurs de nouvelles façons d'appréhender ces données, mais aussi offre de nouvelles possibilités de sélectionner et de manipuler les données pour pouvoir ensuite les travailler et les analyser.
Con la pubblicazione online dei dati RISM si apre una vasta gamma di nuove opportunità al mondo della musicologia. D'altronde, elaborare e analizzare migliaia di schede bibliografiche lancia anche nuove sfide alla ricerca musicologica.
Presentiamo qui una maniera innovativa di visualizzare i dati sulle edizioni musicali a stampa anteriori al 1730 riportate nella serie RISM A/I. Questo approccio offre ai ricercatori non soltanto un nuovo tipo di accesso ai dati, ma anche nuove possibilità di selezionare e gestire i dati in vista di ulteriori elaborazioni e analisi.