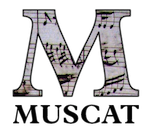 The Swiss RISM records music manuscripts and printed musical sources in Swiss libraries and archives according to international scientific standards. It thus contributes in an essential way to the conservation of cultural assets in music in Switzerland. The inventoried collections are accessible to musical performers as well as to musicological research worldwide via internet. The Swiss RISM also has a leading role in the development of Muscat, the web-application of the project designed for the cataloguing and the publication of the sources.
RISM-Schweiz erschliesst die in Schweizer Bibliotheken und Archiven überlieferten handschriftlichen und gedruckten Noten und Schriften über Musik nach international verbindlichen wissenschaftlichen Normen. RISM-Schweiz leistet einen wesentlichen Beitrag zur Sicherung des musikalischen Kulturgutes der Schweiz. Über Internet werden die inventarisierten Bestände der musikalischen Praxis und der musikwissenschaftlichen Forschung weltweit zugänglich gemacht. RISM-Schweiz nimmt auch eine führende Rolle bei der Entwicklung von Muscat ein, der Web-Applikation zur Katalogisierung und Publikation der Quellen.
Le RISM Suisse inventorie les partitions manuscrites et imprimées et les écrits sur la musique conservés dans les bibliothèques et archives suisses en respectant les normes scientifiques internationales. Il fournit ainsi une contribution importante pour la sauvegarde du patrimoine culturel musical suisse. Les fonds inventoriés sont mis à disposition des chercheurs et des interprètes du monde entier grâce à un accès par Internet. Le RISM Suisse est aussi responsable du développement de Muscat, l'application développée spécifiquement pour le catalogage et la publication des sources.
RISM Svizzera cataloga le partiture e gli scritti sulla musica (manoscritti e a stampa) conservati nelle biblioteche e negli archivi svizzeri rispettando le norme scientifiche internazionali. Il RISM fornisce pertanto un contributo importante alla salvaguardia del patrimonio culturale musicale svizzero. I dati raccolti da RISM-Svizzera sono messi a disposizione della ricerca musicologica e della prassi musicale in tutto il mondo attraverso una banca dati accessibile on-line. RISM Svizzera è anche responsabile dello sviluppo di Muscat, l'applicazione sviluppata appositamente per la catalogazione e la pubblicazione delle fonti.